The METAV2006 was held in Dusseldorf 20th to 24th June 2006.
At this year's METAV Düsseldorf 47,500 trade visitors made for a busy show. There were 925 exhibitors from 21 countries and the quality of visitors was high and OneCNC concluded more deals than expected. We believe most exhibitors were satisfied with how the trade fair went because it was quite busy each day. We would have liked to see even more visitors however with the World Cup on at the same time obviously many people went into the stadiums or or stayed to watch it on TV.
In attendance from OneCNC was Uwe OneCNC Germany, Stephan OneCNC Germany, Allan OneCNC Denmark and Bob from OneCNC Australia.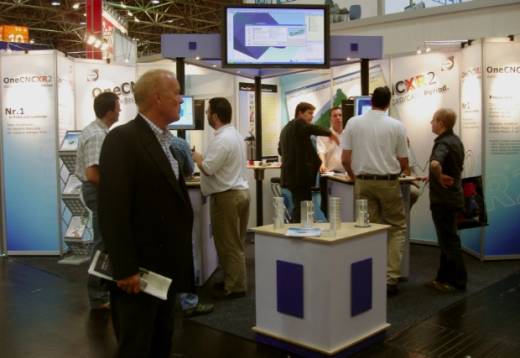 Here Allan OneCNC Denmark (left) is off to an early start demonstrating to a customer while Uwe OneCNC Germany Is behind on another PC demonstrating also.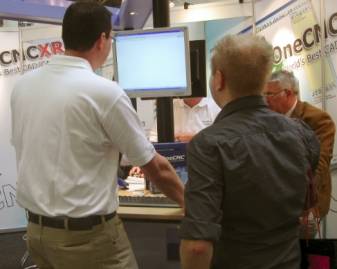 Multu Axis machining was a popular request at the show and we see Uwe OneCNC Germany (center) demonstrating OneCNCXR2 5 axis to customers.
Stephan OneCNC Germany (center) is shown here demonstrating the benefits of OneCNC to customers.