Euromold International Show 2006
The Euromold International Show November 29 - December 02, 2006
Show Facts
Location: Exhibition Center - Frankfurt, Germany
Website: www.euromold.com
Frequency: Annual Show
No. Of Exhibitors 2006: 1674
Show Floor Area 2006: 80,050 sq. m.
Visitors 2006: 60,400 from 80 countries
This was the second year in a row for paticipation by OneCNC Germany. Uwe OneCNC Germany, Stepahn OneCNC Germany, Sebastian OneCNC Poland, Allan OneCNC Denmark and Bob from OneCNC Australia were on hand to demonstrate the new features of OneCNCXR2 at the show.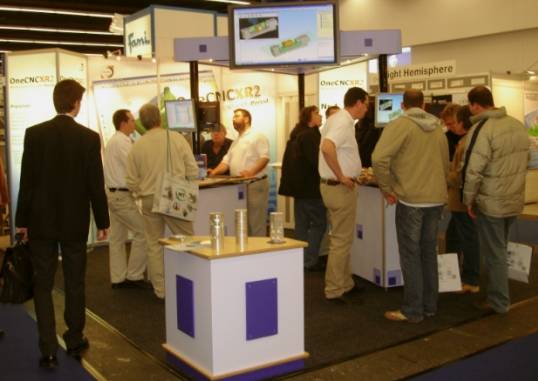 Here we see Allan OneCNC Denmark (left) demonstrating OneCNC products.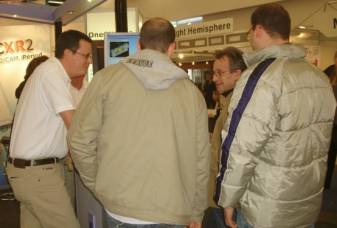 Here Sebastian OneCNC Poland demonstration the new ability of OneCNCXR2 at the show.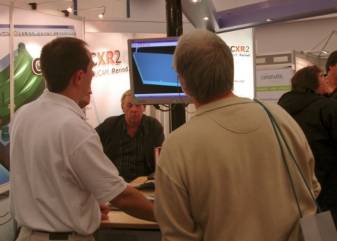 Here we see Uwe hard at it often before during and after the show specialised on-line technical support for customers is done as if it was a normal day at the office.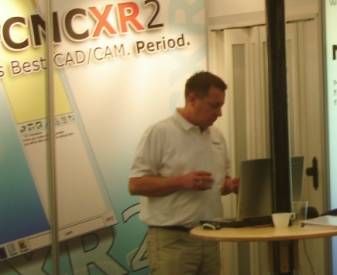 Here we see Stephan OneCNC Germany (left) demonstrating the new features of OneCNCXR2 to a customer.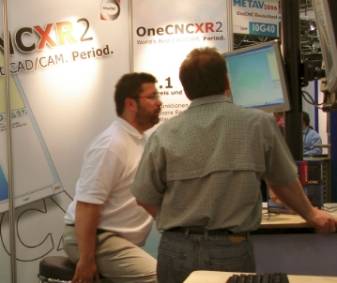 OneCNC booth is on the right and the booth opposite we were not sure if the wall graphic was because OneCNC was the most competitive and most active at the show.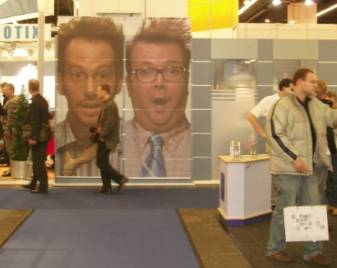 Hargett Precision Products
From "Car Nut" to precision parts
I've always been somewhat of a performance and racing fanatic…somewhat of a "car nut" if you want to call it that.
A few years ago I got burned out on the corporate life, and I wanted to switch gears and do something that I like and have passion for. A friend of mine who was involved with CNC Machines and was shopping CAD/CAM software introduced me into the industry; he was the one who informed me about OneCNC. We exchanged notes and I learned what I needed to do to get involved with the industry. Not long after, I decided to take the plunge and purchased a new Hurco VM1. Hargett Precision Products was underway, and business took off.
The primary focus of my business is to design, develop and manufacture my own line of products which consists of high performance Porsche parts, racing parts, street performance parts, and typical job shop parts.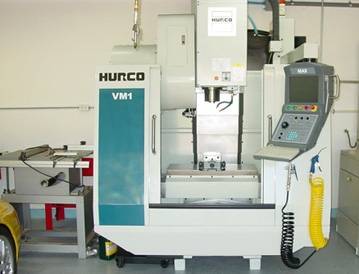 The machine and software that I chose has allowed me to be extremely successful in the last 2 years. I have been really happy with the decision I made. When I initially involved myself with the manufacturing industry, I tried a ton of CAM programs: MasterCAM, EasyCAM, SurfCAM, there was an entire plethora of programs to evaluate. All of them were really, really expensive and had a pretty deep learning curve; none of them were what I would call intuitive at all. I consider myself somewhat computer savvy, and I have always believed that a program should really be about ease of use and intuitiveness, and that is the first thing that really set OneCNC apart from all of the rest.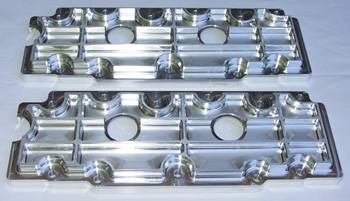 In terms of functionality, OneCNC was completely capable of handling my complex parts.
When guys ask me why I chose my CAM system, there are three things I say:
1. If you look at the user interface, and ease of use, and the amount of time you will spend getting up and running, no one compares to OneCNC No one should have to spend weeks, or months, or whatever it is to learn a new program. 2. The cost of OneCNC is hands down the best value for CAM out there! And 3. The support; I mean, anytime I've had a question or did not understand something, the support and online board have been absolutely great.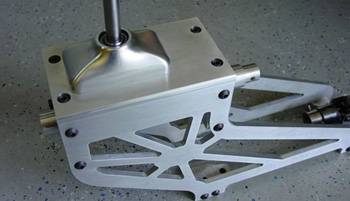 One reason I keep my customers coming back is because I have the ability to design, program, and machine it very quickly and very fast. OneCNC is a huge part of that process because the CAM portion is a breeze.
Hargett Precision Products
Mark Hargett
April 11, 2006
METAV2006 Dusseldorf Germany
The METAV2006 was held in Dusseldorf 20th to 24th June 2006.
At this year's METAV Düsseldorf 47,500 trade visitors made for a busy show. There were 925 exhibitors from 21 countries and the quality of visitors was high and OneCNC concluded more deals than expected. We believe most exhibitors were satisfied with how the trade fair went because it was quite busy each day. We would have liked to see even more visitors however with the World Cup on at the same time obviously many people went into the stadiums or or stayed to watch it on TV.
In attendance from OneCNC was Uwe OneCNC Germany, Stephan OneCNC Germany, Allan OneCNC Denmark and Bob from OneCNC Australia.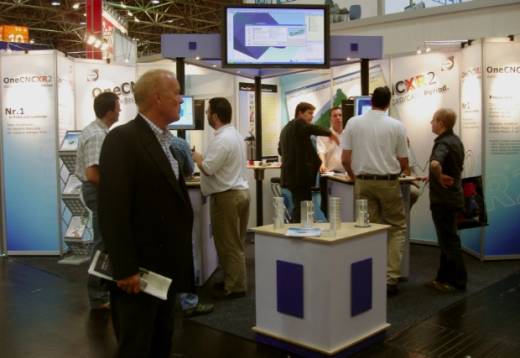 Here Allan OneCNC Denmark (left) is off to an early start demonstrating to a customer while Uwe OneCNC Germany Is behind on another PC demonstrating also.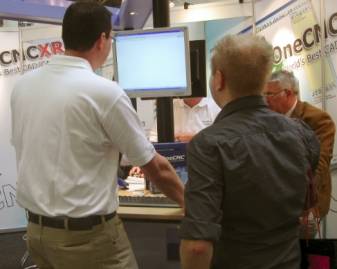 Multu Axis machining was a popular request at the show and we see Uwe OneCNC Germany (center) demonstrating OneCNCXR2 5 axis to customers.
Stephan OneCNC Germany (center) is shown here demonstrating the benefits of OneCNC to customers.