OneCNC has released a new OneCNCXR5 Update version 31.11 27th March 2014 and is now available in the update server

Changes in this version
OneCNC CAM Section

Due to investigation from submitted user reports there has been an important and substantial change in the OneCNC Z Level finishing optimisation functionality in this version.
There is no change in the use of the function but the results are greatly improved quality of Z level model machining.
There are several other minor changes to the CAM section due to submitted reports from global users.
Because these were all individual cases there was no reason to document the change as they would only be found in rarely used situations.
OneCNC Languages

This update includes changes and corrections to the Korean language version.
OneCNC Help File

This release includes the latest version of the OneCNCXR5 Help File System.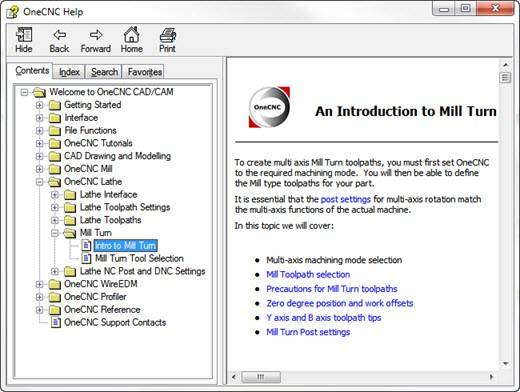 As submitted reports are received from users OneCNC often changes explanation or assistance in the help file to make future use easier for users.
Some further information was added to the "Introduction to Mill Turn" machining due to a report that was received that had confusion with the relationship between the C axis machining and the Lathe Wrap function. 
The wrap function has always been the same as the mill version which is also in-line with the unwrap function because often the unwrap/or wrap is created in other systems such as mill.
The unwrap function is a standard function common to both mill and lathe and also common and in-line for use with the unwrap function from the various versions of CAD. 
The Wrap has a Zero at the Top at 12 o'clock or the 12 o'clock position (same as the mill which has a common X0 Y0 Z0 and C0 or A0) whereas the C axis face and positional Lathe machining has radial Zero at 3 o'clock position. 
Users normally use a G54 for the C axis face and positional machining to keep it separate to the wrap machining.
If wrap is used in the Lathe usually the G55 is used for this function with a C axis offset +90 is generally used
This message is to alert the users that may want to combine Wrap machining with C axis machining..
The G55 for the wrap apply a work offset of +90 in the machine C axis work offset if the machine is of that direction rotation and wrap and C axis is included in the same program.
This is included in the Introduction

We also remind the use the easy to find in model angle for holes for positional machining is to use the "plane from hole " function in the planes dialog.

This update is now available in the OneCNC Update server.
Read More...