OneCNC has released an update that introduces a new wave of technology to OneCNC.
OneCNC new release OneCNCXR4 21.05 update dramatically increases the speed of tool path calculations of up to 10 X and more the speed of the previous release.
To obtain these speed increases OneCNC now makes use of various new technologies including multi threading duel core and quad core support in some of the the tool path calculations rand processing.
The largest gain comes to the OneCNCXR4 21.05 High speed Z level tool paths that now have speed increases up to 10 X or more.
There are many other adjustments included in this update and the major ones are listed here:
OneCNCXR4 Mill Expert version:
OneCNC has introduced a and added a new machining strategy into the Expert version to the already powerful 3D high speed suite of tool paths. 
Z Complete Finish is the latest addition to the list of finishing tool paths and is designed to address both steep wall and shallow region machining.
This new toolpath adds new finish machining ability that combines a shallow area machining ability with a Z lever vertical wall machining ability.
OneCNC automatically detects the angular changes that differentiate the various regions and intelligently applies the various changes to the machining strategy in a top down manner.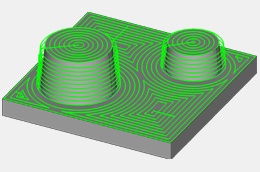 This shows a sample of the complete tool path.


OneCNCXR4 Milling Versions:
Thread milling functionality has been updated for external threading. When cutter comp comp is used the entry and exit were streamlined to take less room for clearances.
Update provides major speed increase times as much as 10x and more in Z level tool paths.
There was a change made to the editing of hole feature operation concerning field names.
OneCNCXR4 Lathe Versions:
New times calculation in the job sheet for lathe for CSS MM/rev and MM/min

In lathe users need to allow for spool up/down times for CSS as well as tool change times if they use the job sheet times because that can only be determined at the particular machine being used.

In lathe C axis was changed so that you can now use the polar cycle for drilling on machines that allow cycles within cycles or the automatic drilling method for machines that do not accept cycle within cycle.

In lathe C axis OneCNC has added a new feature to suit machine rapid speeds. There is a new post setting to provide if the machine supports rapid movements inside the C axis cycle. This can be simply tagged and set in the post now.
OneCNCXR4 All Versions:
Copy array function was modified/improved so user can see if array is still tagged or not after use.
Numerous changes to filleting and modelling as a continuing on-going development have been added to this update.

There were Updates to the following translators.
DXF
IGES
STEP
SAT
Parasolid

Major updates have continued to be made to the help files and tutorials that are installed with the software..

The following languages have been updated in this release.

Japanese
German
Polish
Danish
French
Dutch
Italian
OneCNCXR4 Korean language version:
The ability to use Korean true type fonts was added providing the ability to use TTF of Korean for engraving etc.
Read More...