OneCNC is the perfect choice
Machinery Solutions Pty Ltd is a specialist designer and manufacturer of machine components based in Brisbane, Australia. This forward thinking company has advanced their manufacturing capabilities to keep up with the challenges facing Australian manufacturers.

Managing director Grant Richards has made the bold move to 5 axis machining. "This decision was made for us not by us" , our industry is moving at breakneck speed and we need to be in step or one step ahead."
"After looking at what machinery was needed, we settled with the Deckel Maho. The DMU 50 fitted the bill. the latest Heidenhain control was a great plus. We found that OneCNC was the only CAD/CAM package that could offer complete 5 axis solids based design compatibility with the latest Heidenhain CNC machine control.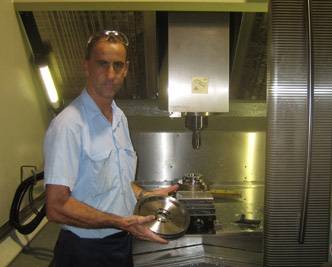 This now gives us the ability for high speed production and precision machining for 3, 4 and 5 axis parts by CNC machining centers as well as CNC machining by Lathe. We also have OneCNCXR2 Professional Lathe CAD/CAM.
We had to be absolutely sure we had the right tools to attack Queensland's ever increasing Aerospace market. The last piece of the puzzle was CAD/CAM software "OneCNC Mill Expert was the only software package to do what we needed and it was another decision that was made for us. We had used OneCNC for six years, but the OneCNC Expert with the 5 axis had the competition beat."
We know of users of other software that they only use CAD/CAM when absolutely necessary because their systems are hard to use. We know different because we found that the OneCNC with all the machining strategies bi-directional file translation along built in Heidenhain canned cycles and native Heidenhain code for for the control provides the ease for 3, 4 or 5 axis programming means that all our programming is easily and safely done off line.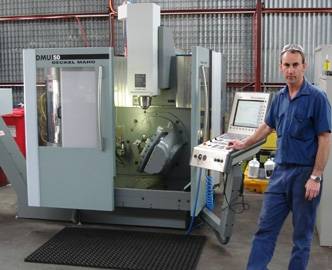 "The only buttons we now use on the Heidenhain controls are on and off, OneCNC allows the machines to run whilst we program the next job, that's important to us as we are a small batch shop."
"It's a great package" and the perfect choice added Grant "A fast modern machine software package that does exactly what I want. We have now machined parts for the medical,aerospace and automotive industries, on time to drawing and customers are coming back."
Grant Richards
Machinery Solutions Pty Ltd.